Roy Mangersnes
---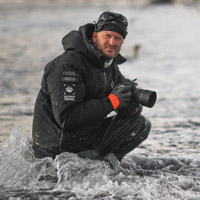 Roy Mangersnes is a trained behaviouralist and professional wildlife and conservation photographer from Norway. Roy is a Nikon ambassador and is considered among the most influential nature photographers in Norway today. He is former chairman of the two largest nature photography associations in Norway; BioFoto and Norwegian professional Nature photographers Association, as well as founder of the biological consultancy company Ecofact. Roy has published several books, as well as won multiple international awards including BBC Wildlife Photographer of the Year (UK), European Wildlife Photographer of the Year – GDT (Germany), Nature Best Awards (USA), Golden Turtle (Russia) and was awarded Arctic photographer of the year 2013 by the Global Arctic Awards (Russia). Roy is working around the world and his images are being published all over. He is also an experienced speaker and has been presenting his work at several international photo festivals and events.
As a part of his carer as a photographer Roy is partner and photographic host at WildPhoto Travel. He does assignments around the world to destinations ranging from the Arctic to the Antarctic, also visiting destinations in Africa and the Galapagos Islands, many of them Penguin destinations.
Roys background as a biologist and his passion for wildlife makes him well prepared to be a Penguin World photographer. His knowledge will be useful both from a photographers point of view, but also as a biologist and conservationist.
WHY PENGUIN WORLD?
As part of Roys position in WildPhoto Travel he has traveled to many Penguin destinations. He has visited their world and witnessed how they survive in the most extreme environments. Roy has also seen clearly how penguins are affected by the changes in our seas and how vulnerable they are to these changes. As a photographer and host in WildPhoto Travel he has a passion for sharing his knowledge and commitment to the environment with his clients, and the Penguin World helps put this into context. Being part of a project like Penguin World helps raise awareness to global environmental issues.