Ole J Liodden
---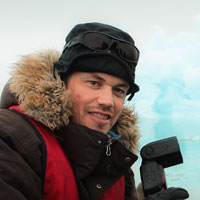 Ole J Liodden of Norway is a pro wildlife photographer and one of the founders of the Penguin World project. Before he became a full-time photographer (in 2003) he got master degrees from the University in Ås (Norway) in Natural Resource Management, Resource Economics and Environmental Politics. He has also studied Wildlife Management, Ornithology and Mammalogy at the University in Alaska (UAF). Ole has always been interested in environmental conservation and resource management, and now he uses his photography as a tool to get more interest for environmental issues in marine ecosystems.
Ole J Liodden was chosen as one of the photographers for the Wild Wonders of Europe project – the world's largest communication project regarding nature and environmental conservation in Europe. He has previously been a Canon Ambassador (2008-2010) and Nikon Ambassador (2010-2012) in Norway.
Ole was one of the founders of WildPhoto Travel, a specialised photo expedition operator, based in Svalbard. His experience as a photo guide and expedition leader has led him to destinations such as Svalbard (28 times), Antarctica, Africa, New Zealand, Russia Far East and the Galapagos.
In the past 10 years, Ole has published 7 books about nature and photography. His images has received 3 awards in the prestigious competition Wildlife Photographer of the year (Winner in 2012) and 7 awards in the German GDT photo contest. He was awarded as The Arctic Photographer of the Year 2012 by the Global Arctic Award. Ole is considered to be one of the top wildlife photographers in Europe.
WHY PENGUIN WORLD?
Oles passion for penguins started back in 2006 during his first ship expedition to Antactica. Later he has done 11 more photo expeditions to remote areas in the Southern hemisphere, covering 15 of the worlds 18 penguin species. "For me penguins are the perfect Ambassadors for marine ecosystems, and I believe the Penguin World project can make a difference in peoples and politicians interest in conservation of ocean life". Ole is looking forward to combine his penguin photography together with his experience and knowledge in Natural Resource Management.